Procore is a construction project management platform that allows users to enhance productivity related to preconstruction, project management, resource management, and financial management. Users can track a project from start to finish and have the ability to collaborate across teams, store associated files, and build custom workflows and apps to streamline the processes involved in your projects.
Unearth's integration with Procore enables users to not only view Unearth sites within the Procore platform, but users can:
Upload documents, plans, and photos directly into Unearth sites from Procore,
Visualize project files by geolocation on Unearth site maps, and
Record and report inspections.
Here, you will find the step by step process of connecting your Unearth and Procore accounts and the ways you can utilize this integration:
1. Log in to Procore.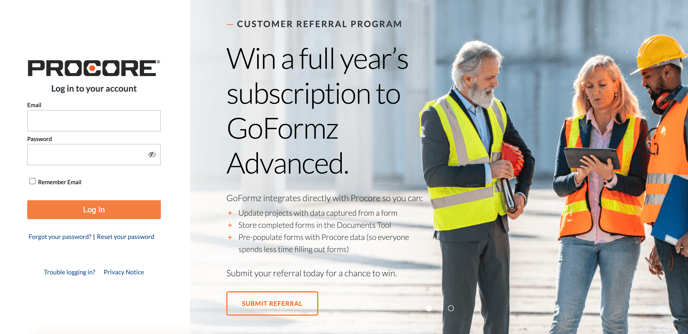 2. Click on an existing project.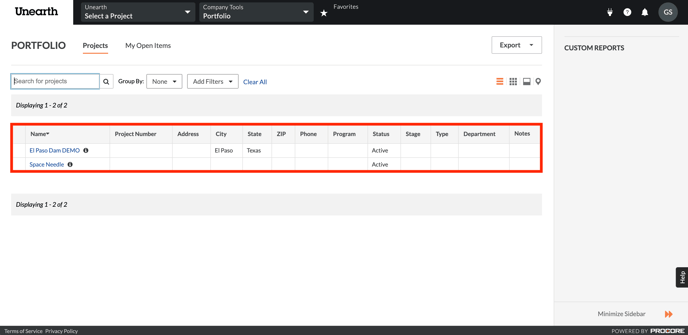 3. To link the Unearth app to your Procore project, click "Select an App." Then, click "App Management." If you do not see Unearth as an available app in App Management, you will need to install it via the Procore App Marketplace. Here's how you install a new app: "Install an App from the App Marketplace."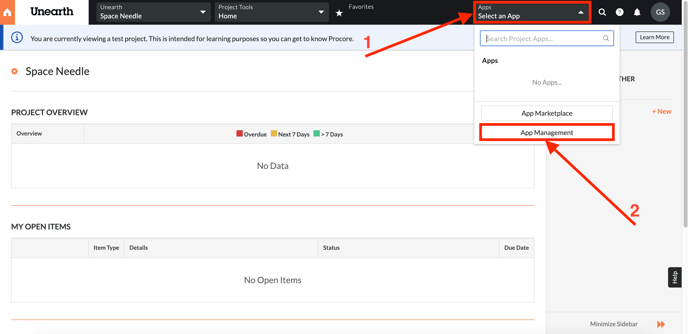 4. Click "View."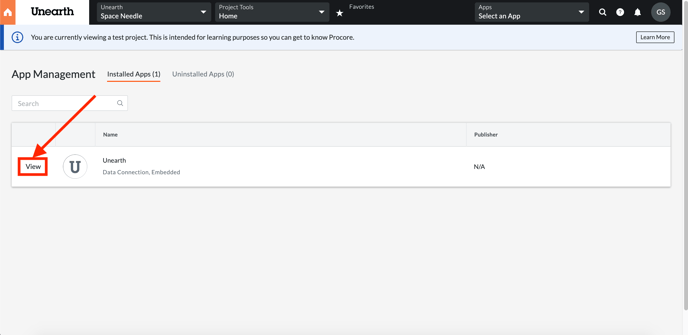 5. You will need to configure the app to be linked with the Unearth site. Click "Configurations."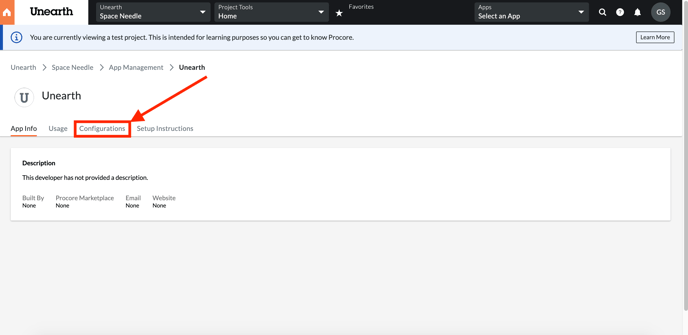 6. Click "Create Configuration."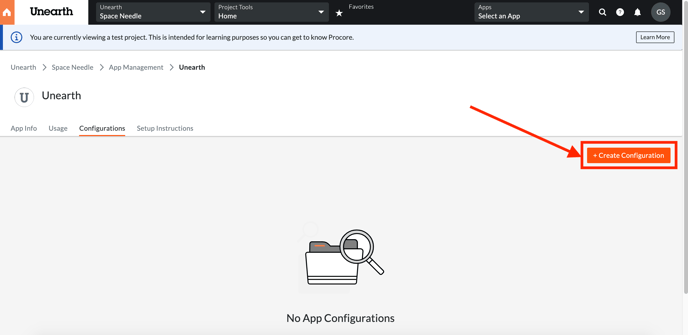 7. Create a title for the configuration and then enter the Unearth site's Site ID and Project ID.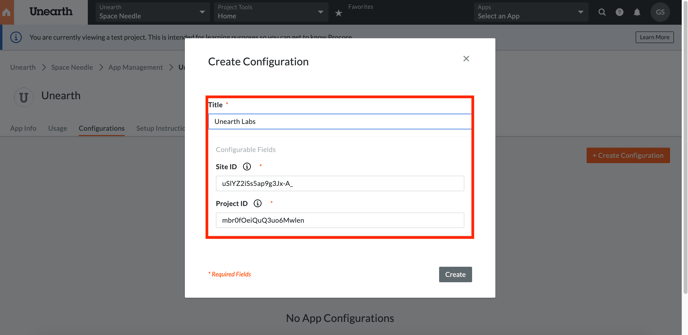 You can find these IDs in the URL of the Unearth site:

Click "Create."
8. Now, click on the 'Home' icon in the top left corner of the browser.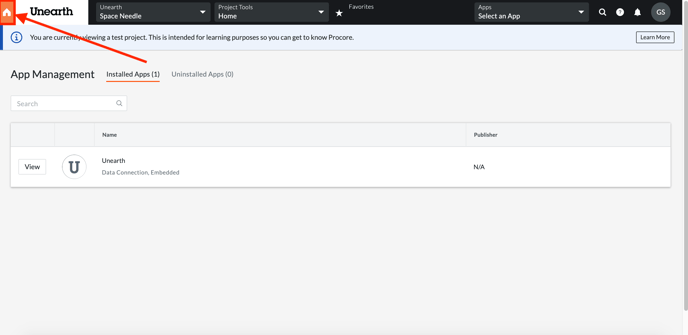 Then, click on the Project name and click on "Select an App." You should see "Unearth" under "Apps."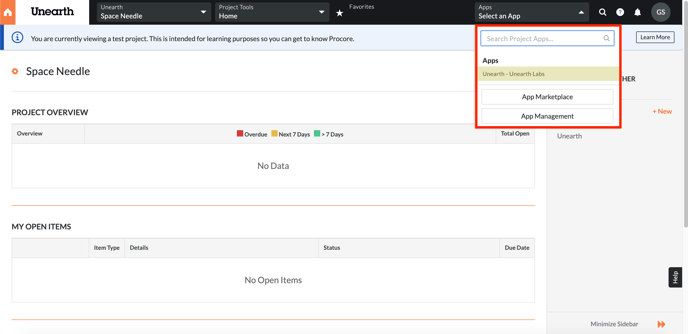 Once you click "Unearth" and it will open the site within your Procore account.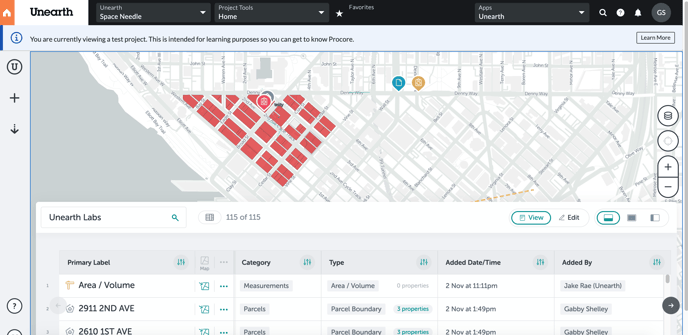 ---
Now that you know how to tie an Unearth site with your Procore account, let's upload files into Unearth via our Procore integration.
1. Open the site you want to upload files to.
2. Click on the "+" button to open your Toolkit.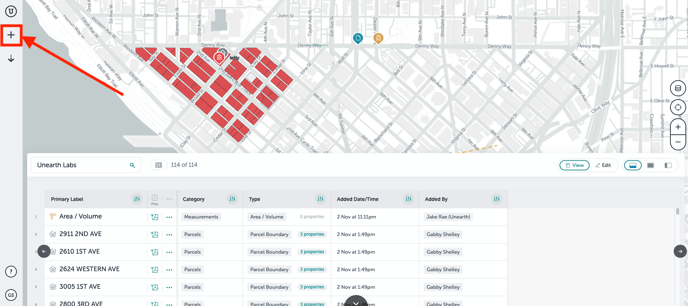 3. Scroll down to the Tool Group "Files" and click on which type you would like to upload.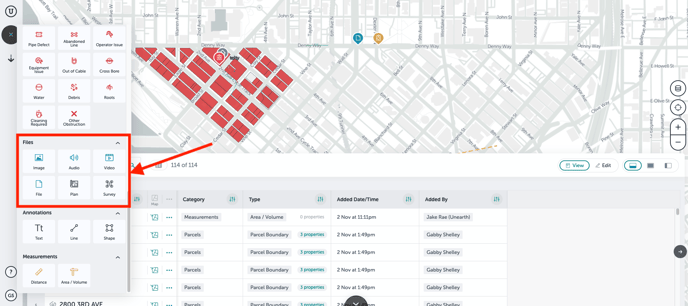 4. You will see the File Upload window open on the right side of your screen.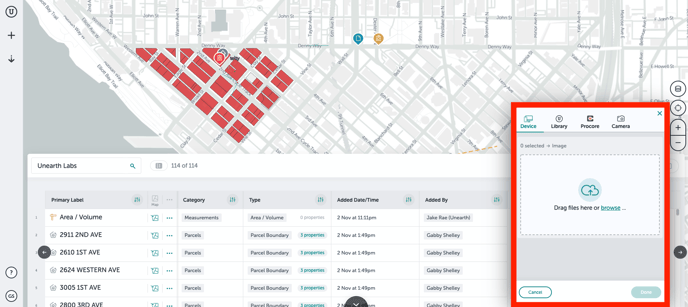 5. Click "Procore." Here, you will be instructed to "Connect to Procore."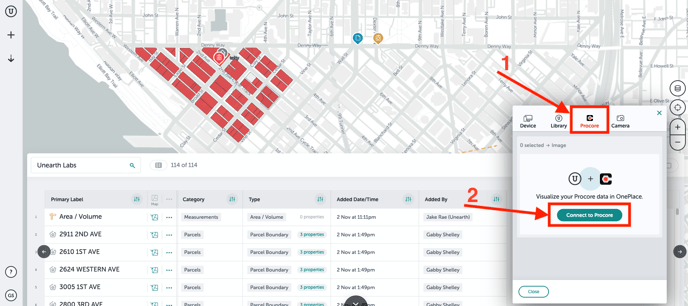 6. Another browser window will open and you will need to sign in to Procore. Click "Allow" to authorize Unearth to use your Procore account.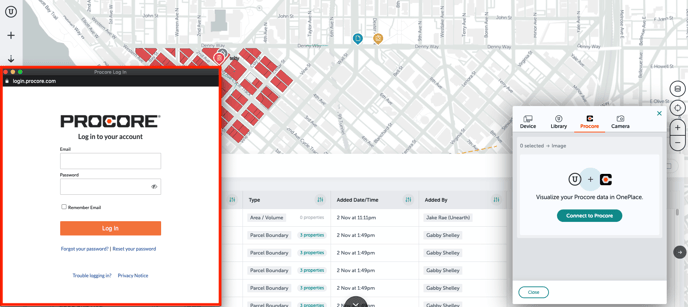 7. The File Upload window will refresh and you can select which Project you would like to upload files from.
8. Select which files you would like to upload to your Unearth site. Then click "Done."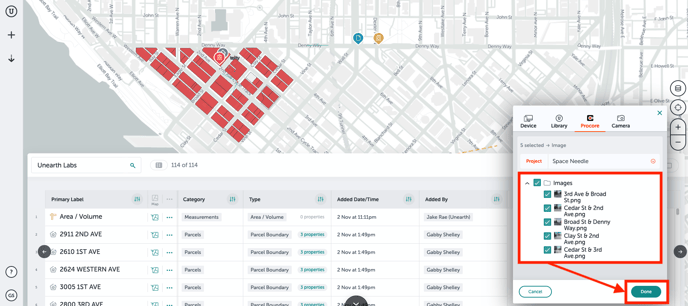 9. You can see the progress of your upload and, if necessary, cancel any upload.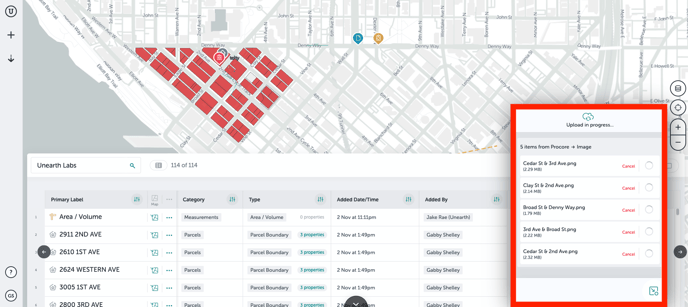 10. Your files will be added to your site. If your files are georeferenced, their icons will appear on your map and in Table View. If your files are not geotagged, you can simply add them to your map.
---
There you have it! Through our integration with Procore, you can easily upload any type of file directly to your Unearth sites and track any progress both in Unearth and Procore. If you run into any issues or have any questions, please reach out to us at support@unearthlabs.com.