Portfolios have brought us an updated workflow for creating and managing projects!
We have made major changes to our Account Homepage experience. The new UX streamlines the user's site management process and incorporates new ways to track your account, projects, and people. We'll give you a walkthrough of the new updates and show you how easy it really is!
---
1. Log in to your account at app.unearthlabs.com.
Now get ready for new features!
2. The new account homepage will appear with a map and a list of your current projects. This may look familiar because it is the layout Unearth uses when you are working within a site.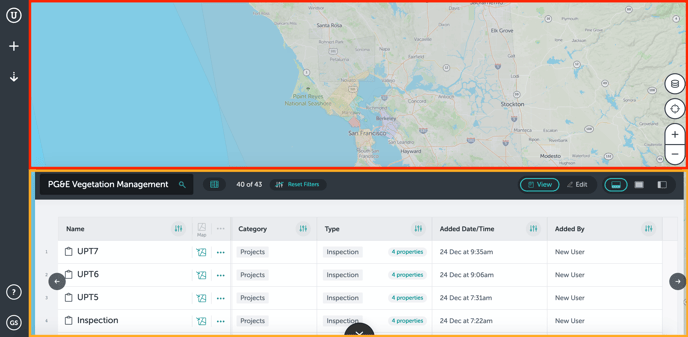 At the Top: you see all of your project sites as polygons on your map (this is the Site Bounds polygon that you draw when you create a new project site).
Below: you have a list of all of your projects:

Each project has individual properties that you can note and search.
The 'Type' of a project depends on the toolkit you decide to use when creating that project.

You navigate the Homepage as you would navigate within an individual project site:

On the right-hand side, you can change your Basemap, Find your Current Location, and Zoom in/out on your map.
3. There are changes to the Left-hand side of the Homepage:
The Unearth Logo

This is the new home for your Account Settings and Info:
Portfolio = the Account Homepage (the view of the map and the list of current project sites).
People = the complete list of users that are on this account and where you can add new users.
Account Info = a quick overview of the account Name, number of User Seats, and when it was created.
Switch Account = if you have been added to multiple Accounts, you can find the others in a dropdown menu.
'Plus' Icon - Create a New Project Site

Here's how you create new Projects in the new flow:
Click on the 'plus' icon.
The 'Projects' window opens and you will find your custom toolkits that have been added to your account. Select one and begin creating your new Project.
You will be prompted to locate and draw your Site Bounds.
Draw your Polygon and click the last point twice to complete it. Then you will see the Project's Properties form.
Edit the Project Properties here (number, name, status, and comments). Included in the Properties form are Tabs:

Comments - keep a running conversation going about the project and send notifications to specific users using the @mention function.
Links - upload any files to the Project.
People - manage users on the specific Project and their roles.
Places/Levels - view the Project's Site Bounds and add additional places within the bounds to link assets that are within the Project.



Now, click "Go to Inspection" to start adding data and assets to your new Project Site!
"Go to Inspection" opens the Project Site and is where you start adding assets, data, and any files/information to that particular project. The process of adding, changing, drawing, and uploading items to your site remains the same! See our OnePlace V2 articles for any help.
Export Arrow:

You can export a document (XLS, CSV, geoJSON, PDF, shapefile, or KML) that includes all of your Project Sites to keep for your own records.
4. Enjoy the new, streamlined workflow and start creating new Project Sites!
As always, if you run into any issues or have any questions, please reach out to us at support@unearthlabs.com.